Butte, Montana – The Richest Hill on Earth
The Butte Mining District, Butte, Montana


A Summary of the History, Geology & Minerals

Tom Loomis

Location
Founded in 1879, Butte, "the Richest Hill on Earth", is located in Silver Bow County in southwest Montana. The Butte mine district is essentially within the city limits of Butte. The city of 34,000 is nearly on the Continental Divide at an elevation of 5549 feet in the Rocky Mountains flanked by the Boulder Mountains to the north and Highland Mountains to the south.
It is at the intersection of I-90 and I-15. Helena, the State capital is 66 miles north on I-15, and Billings, the largest city in Montana is 226 miles east on I-90.
Leonard mine workers - Butte 1914
John Taylor Collection
History
Although Butte was one of the largest producing copper districts in the world, its mining heritage can be traced to the discovery of gold in 1864. Prospectors had already found rich placers at Bannack and Alder Gulch 70 miles to the south and at Dry Gulch near the present day City of Helena. By 1868 the placers at Alder Gulch had produced about $30 million in gold. The gold at Butte, however, was short lived and yielded only about $1.5 million, but it was recognized early on that the source of placers were nearby. As the placers were exploited miners located lode deposits, of which the first to be staked was the Asteroid claim in 1864 on Butte Hill (Rickard, 1932).
The gold near Butte was impure occurring with a mixture of silver and the veins were also found to contain copper, antimony, arsenic, and manganese. In 1865, a silver vein was discovered adjoining the Asteroid and was named the Travona. Shortly thereafter, numerous claims were located and Butte was transformed into the leading mining district of Montana Territory. Although metallurgical recovery of the ores proved difficult, miners drudged onward digging shafts to 150 feet and continuing assessment work on the claims which included the Parrott, Original, Gray Eagle and Mountain. Several years went by with little progress on recovering the refractory silver ores. In 1874 the Travona was re-located by William Farlin and in 1876 William Clark, a local banker, invested money into the Dexter 10-stamp mill, which turned a profit on the silver ore. This marked the beginning of Butte's successful episode into silver mining and by 1878 $900 thousand was made on silver bullion. Silver mining peaked in 1887 with throughput from five mills (Rickard, 1932). Although complicated by other factors, by the time of the silver panic of 1892-93 destroyed the market, Butte had produced 28 million Troy ounces (Jenkins & Lorengo, 2002).
Rich copper deposits were known at Butte since the early 1870's, although development was delayed for not only metallurgical reasons but for the lack of adequate transportation required to bring the ore to smelters. Fortunately for Butte, the well-known mining giant George Hearst visited Butte and in 1882 and recommended the sinking of a new shaft on Marcus Daly's Anaconda mine, which at the time was producing 30 ounces silver per ton. At the 300 foot level a crosscut encountered a large vein 5 feet thick of chalcocite. By 1883, the shaft reached 600 feet and exposed more chalcocite in a vein over 90 feet thick. Without the necessary rail lines and recovery facilities, Butte's copper ore was sent to Swansea, Wales for processing. Nonetheless, Butte now entered its third phase of mining – the copper industry. By this time the Utah & Northern rail lines connected Butte with the Union Pacific out of Ogden, Utah. By 1888, the Montana Central reached Butte and in 1893 the Northern Pacific. All the infrastructural components were in place for Butte just in time for the dawn of the electric age and the requirements for copper wire.
Miners at Butte - 1910
John Taylor Collection
During the period of 1898 to 1906, Butte miners and mine owners fought over the rights of mining the copper veins. The geology of Butte was complicated and the trend of ore veins mined underground presented a new difficult situation for those who claimed the right to mine them. The apex law gave the right of a claim holder to mine a dipping vein to its full lateral extent, beyond the claim's side lines, even if the vein went below the adjacent claim. Conflicts with this law created serious issues and started the underground wars of Butte which raged in the mines and in the courts. During these years, no less than 45 companies operated in the Butte district. When all the dust settle it became clear for reasons of efficiency and legalities not to mention economic, one company through consolidation of all others would mine it all – The Anaconda Company (Rickard, 1932).
In 1902, 17 to 20% of all US copper production came from Butte. There were a few terrible disasters during the coming years including the 1917 3,000-foot shaft fire which was described as a raging inferno killing 167 miners. In the 1920's Anaconda expanded into end-use fabrication of copper and acquired several other mining interests including the largest copper deposit in the world, Chile's Chuquicamata mine. World War II required increased production from Butte but after the war as economic conditions changed demand dropped. As the situation presented itself, mining efficiency was the answer and Anaconda embarked on an underground mining method called "block-caving" and the new "Kelley" shaft was sunk. Initial investment amounted to $27 million. This allowed for the mining of lower-grade ore and by 1962, when Kelley operations were suspended, over 270,000 mt of copper were recovered. The centrally located Berkeley pit commenced in 1955, which produced 225,000 mt per day of which 60% was ore. In 1966, the Kelley shaft was deepened to the 4,800 foot level and ore was produced from the Mountain Con, Steward, and Leonard mines (Meyer, 1968).
Mining in the 1970's at Butte was at the mercy of problems abroad with Anaconda. Aside from cyclical fluctuations in copper prices, Chuquicamata was taken over by the Chilean government. This created a financial crisis within Anaconda, and as a result, in 1975 underground operations ceased. In 1976 Anaconda was forced to sell out to ARCO during a hostile takeover by the Crane Company. ARCO's new endeavor limped along and in 1982 suspended operations at the Kelley mine and Berkeley pit. In 1983 the remaining operations were terminated. This marked the end for Butte after 120 years of mining (Jenkins & Lorengo, 2002).
In 1986, Montana Resources resumed operations on the low-grade Continental pit, formerly the East Berkeley pit. In 2001, despite a 49% interest from ASARCO, with huge domestic resources, operations again ceased (Jenkins & Lorenzo 2002) and re-opened in 2003 with rising metal prices and continue today.
Badger mine workers - Butte 1908
John Taylor Collection
Some of the more common historic mines include:
Acquisition
Alice
Amy-Silversmith
Anselmo
Anaconda– great producer of chalcocite-enargite ores
Badger – Bornite dominant copper phase
Belmont – Bornite dominant copper phase
Berkeley pit
Black Rock
East Colusa – largest concentrations of digenite and covellite
Elm Orlu
Emma – abundant rhodochrosite, bonanza style veins. Major mineral specimen producer.
Gagnon
Gem
Goldsmith
Leonard – great producer of chalcocite-enargite ores. Major mineral specimen producer.
Lexington - Major mineral specimen producer.
Magna Charta
Moulton
Mountain Con – large veins of chalcopyrite. Red octahedral fluorite.
Neversweat
Ophir
Original
Orphin Boy
Orphin Girl
Parot
Speculator
Springfield
Steward – chalcopyrite veins. Produced golden barite, bornite and pyrite mineral specimens.
Syndicate pit
Tramway – great producer of chalcocite-enargite ores
Travona – first silver claim
Anaconda & Neversweet mine - Butte
John Taylor Collection
Mountain Con mine - Butte
John Taylor Collection


Geology & Mineralization
The ore body has been studied by numerous geologists with the most notable being Reno H. Sales (1914) and Weed, R. H. (1912). A good summary can be found in The Graton-Sales publication of "Ore Deposits of the United States" (1968) titled Ore Deposits at Butte, Montana authored by Charles Meyer, Edward Shea, and Charles C. Goddard Jr. More recently the Butte copper porphyry has been studied by Rusk, B.G., Reed, M. H., and Dilles, J. H (2008).
The Butte mining district encompasses an area of approximately 2 by 4 miles which has produced huge commercial quantities of not only copper (21.5 billion pounds) but also significant amounts silver, gold, manganese, zinc, lead and molybdenum (table 1). Although large scale, underground mining has seized in Butte, there is yet a large recoverable reserve at depth. Montana Resources continues to mine low-grade porphyry ore east of the Berkeley pit.
Table 1
Production
1880-2004
Butte
District
Montana Resources
Copper - lbs
21, 554,930,540
1,394,823,528
Zinc - lbs
4,909,202,540
Manganese - lbs
3,702,787,341
Lead - lbs
855,797,405
Silver - oz
715,340,826
11,541,264
Gold - oz
2,922,446
Molybdenum - lbs
195,380,975
155,796,277
The Butte district Ore Production (1880 – 2004)
(Czehura, 2006)
The Butte copper-molybdenum porphyry deposit is a complex stock work of veins thought to have been mineralized during multiple episodes. The ore body is a classical example of concentric and distinct zones of mineralization even within veins which cut through the multiple zones. The main intrusive body, the Boulder batholith, was emplaced in a central tectonic block bounded on the north by Precambrian Belt Series rocks and on the south by Archean gneiss, schist and granite (Meyer, 1968). The Boulder batholith show all the characteristics of an epizonal pluton emplaced in the upper crust with low hydrostatic pressures and multiple phases of volcanic intrusions. The batholith lies above Precambrian, Paleozoic and Mesozoic strata but below late Cretaceous volcanics (Billings, 19XX). The central tectonic block has been a zone of recurrent subsidence and tensive deformation since Precambrian. The copper porphyry is hosted within the Butte Quartz Monzonite, dated at 76 m.y., at the southern end of the Boulder batholith. The monzonite is petrographically consistent throughout the district with roughly equal amounts of orthoclase and quartz (40-45%), plagioclase (35-40%) with the remaining 15% of biotite and hornblende and accessory, magnetite, ilmenite and titanite. The magmatic hydrothermal ore deposits are said to be hypogenetic, with supergene enrichment. Ore controls are predominately open tension fissures, fractures and faults within the intrusives (Meyer, 1968).
Butte ore deposition has been characterized in two major episodes: A Pre-Main and Main stage mineralization. Little was known about the Pre-Main stage in the early years of mining. This stage consisted of small quartz veins containing molybdenite and chalcopyrite at depths in the central part of the district. The veins are bordered by alteration envelopes carrying potash feldspar, biotite, and sericite. The biotite has been dated at 63m.y. or about 10 million years after pluton emplacement (Meyer, 1968). Rusk et al (2008) has studied the fluid inclusions of the pre-Main stage mineralization and has proposed a single parental hydrothermal source from great depth generated the ore bearing fluids. Further, the variations in ore and alteration assemblages were the result of chemical changes of the parental fluid due to wall rock reactions at differing cooling and depressurization as opposed to pulses of fluid with differing compositions. In general, evidence for this exists in the consistency of composition of fluid inclusions throughout the ore body.
About 1000 core samples from 10 deep holes drilled from 1200 to 2600 were used by Rusk (2008) and previous researches to study the pre-Main stage mineralization. This information coupled with historical core samples, field mapping and hand sampling from the past 100 years revealed two large internally zoned domes of copper and molybdenum mineralization. Both domes are 2km in diameter. The western dome called the Anaconda and the eastern called the Pittsmont are defined by abundant magnetite-bearing veins and steadily increasing outward molybdenum concentrations. Main stage veins are above and to the west of the Anaconda dome. Rusk (2008) has worked out a hypothetical fluid evolution of the Butte deposit based on a comprehensive fluid inclusion study and he reader is referred to this paper at (link).
The Main stage mineralization consists of the Anaconda and Blue Vein systems (figure 1).
Figure 1
Butte Ore Vein system
Veins in bold are Anaconda veins (E-W), Blue Veins are lighter and trend northwest
after Evans, A. M. (1980)
Main Stage Anaconda Veins
Nearly all the early ore production at Butte came from an east-west striking vein system and more frequent northwest striking veins. The east-west vein system is collectively called the Anaconda system and was the first of the large veins to become mineralized as evident by the offsets caused by the later NW veins. The Anaconda veins dip steeply north on the northern part of the district but are overturned at depth imparting a southward dip. In the eastern part of the district the Anaconda system trends east-west to southeast where "horsetail" zones of en echelon style patterns were produced. The Anaconda veins were known for its extensive and consistent mineralization both laterally and vertically. Veins were mined along strike up to 5 miles and to depths of 4500 feet. For the most part this system is absent at the center of the district. The veins averaged 20 to 30 feet thick and locally up to 100 feet. The early Anaconda mine encountered bonanza type deposits of Chalcocite along these veins. The Emma mine was known for its 100 foot thick and pure rhodochrosite veins. The veins had a tendency to become dilated in the zones where strike changed accounting for many of the bonanza deposits (Meyers, 1968).
Blue Veins
The Blue vein system also produced significant quantities of ore. This system was best developed in a northeast trending zone by a series of closely spaced veins striking to the northwest and dipping steeply to the south in most cases. These veins consistently offset the Anaconda veins and were typically 5 to 20 feet wide. At the intersections, mineralization from the Anaconda veins were often dragged along the slip plane. The veins were traceable with good mineralization for 1000 to 2400 feet along strike and 600 to 1800 feet down dip. Because of the close spacing of these veins, much of the host rock was mined with the veins (Meyers, 1968).
Ore Zonation
All veins in the district contain similar mineralization and are strongly zoned (figure 2). There are three main zones: The Central, the Intermediate, and Peripheral zones. The Central and Intermediate zones are collectively called the Copper zone.
The Central zone was characterized as being nearly free of sphalerite and manganese minerals. Copper mineralization was most prevalent in the Central zone and was particularly rich in enargite and hypogene chalcocite, and bornite ores, but also contained much covellite, digenite and djurleite. The Leonard, Tramway and the upper levels of the Anaconda mine produced huge quantities of chalcocite-enargite ores from both vein systems in the Central zone. Silver and gold mineralization was weak and zinc occurred as trace amounts in the Central zone (Meyer, 1968).
Chalcopyrite is was an important mineral in the outer edge of the Intermediate zone in all parts of the district. The Intermediate zone was characterized by ore shoots of enargite-chalcocite, bornite-chalcocite with increasing sphalerite outward (Czehura, 2006).
The outer or Peripheral zone was nearly absent of copper but heavily mineralized in sphalerite and rhodochrosite with supergene native silver and smaller quantities if acanthite, stephanite, and the ruby silvers; proustite and pyrargyrite. All veins are bordered by sericitic alteration with halos of argillic and propylitic alterations. Silver typically occurred in mines of the northern, western and southwestern margins of the district. Sphalerite is the only zinc ore and was present in all major Anaconda and many Blue veins. Drusy chalcopyrite and tennantite on manganese rich carbonates are present in vugs. Bonanza style rhodochrosite veins in the eastern Emma vein reached widths of 100 feet. Rhodonite is present in the northern veins (Meyer, 1968).
Figure 2
Ore Zonation at 2800 ft level
after Evans, A. M. (1980)
Collectable Minerals from Butte
Butte Minerals Offered Here

Unlike many copper porphyry deposits, Butte did not produce a wealth of oxidized mineral specimens. As such, most prized mineral specimens from Butte are likely to be sulfides. Meyer (1968) describes 65 hypogene minerals and the main ore minerals represented by bornite, chalcocite, covellite, and enargite. Meyer (1968) also listed 46 supergene minerals with rhodochrosite and sphalerite being ore minerals. Guilbert and Zeihan (1964) was the last comprehensive study on mineralogy at Butte and listed 129 species. Most recently Jenkins and Lorengo (2002) summarized Butte history, geology and mineralogy in the Mineralogical Record, Butte issue in 2002 (figure 3). Issues are still available at the Mineralogical Record. Their report added an additional mineral, pyromorphite, making the total reported species found at Butte 130.
Mineralogical Record - Butte Special Issue
Vol. 33, No. 1 (2002)
Below is a summary the main collectable minerals found at Butte as reported by Roberts & Lorengo (2002) and Jenkins. R. E. & Knudsen, P. H. (2008). As this summary is highly condensed, the reader is urged to seek out and read this publication should they be interested in further reading on Butte. It contains many excellent color mineral photos and several historical photos of the Butte mines.
Acanthite – Mineral specimens from Butte must be rare as only historical reports are mentioned in the summaries.
Anglesite – mineral specimens from the oxidation zone of anglesite are rare from Butte.
Apatite – Mineral specimens of apatite may be found crystallized encasing enargite, as aggregates of dull, gray green, hexagonal prisms to 0.25mm. Mineral specimens of apatite have also been found as gemmy pink blue crystals from the Leonard and East Colusa mines.
Azurite – Azurite mineral specimens are uncommon from Butte. Azurite crystals are rare at Butte, but do occur at the Continental pit area as tiny prisms.
Barite – Barite is widespread but uncommon gangue mineral. Mineral specimens from Butte were mentioned in most early reports. Barite crystals have recently been reported as golden brown much like Black Cloud crystals from Colorado. Barite photographed for the MR issue are reported to be from Indian Head, Montana (pers. comm. Chris Van Laer, 2012).
Bornite – Bornite crystals were relatively common at one time. Crystals are good, but not as good as Cornish or Bristol mineral specimens. Bornite was a significant source of ore at Butte. The mineral occurred in all three zones, especially intermediate zone. Mineral specimens with crystals of bornite may range up to 3cm in size but may reach 6cm. Specimens of bornite exhibit the "peacock" tarnish, are generally purplish brown to bluish black. The bornite crystals are often associated with pyrite crystals.
Calcite – Aside from rhodochrosite mineral specimens, carbonates are not common at Butte.
Chalcocite – Chalcocite was reported as the most common abundant copper mineral in the Main stage veins. Good crystals of Chalcocite have come from the Badger, Belmont, Leonard, Mountain Con, and Steward mines. Crystals of Chalcocite are typically prisms or plates of pseudo-hexagonal twins of replacements of Covellite. Crystals of Chalcocite are usually dark grey with a bluish to purple iridescence. Mineral specimens of chalcocite will usually contain at least one other copper mineral, quartz or pyrite.


Chalcocite - Butte
Dakota Matrix specimen - Featured in Butte Special Edition
Chalcopyrite – Chalcopyrite was not an important source of ore at Butte. Most mentions of Chalcopyrite mineral specimens are from historical reports. Botryoidal chalcopyrite was found at the Mountain Con mine.

Chalcopyrite - Butte
Dakota Matrix specimen featured in Butte Special Edition
Colusite – Colusite is the only type locality mineral from Butte. Colusite crystals from Butte are said to be the world's finest and are usually 1-2mm across but may occur on the tips of Enargite to 6mm. Most specimens of Colusite in recent years have come from the East Colusa mine.
Copper – Native copper is a rare mineral at Butte.
Covellite – Mineral specimens of covellite from Butte can only be matched by Summitville, Colorado. Butte has probably produced more covellite mineral specimens than any locality, including Summitville. Covellite crystals typically occur as thin hexagonal plates up to 7.5cm across as singles or groups. One meter masses of covellite were reported in historical reports.
Covellite - Butte
Dakota Matrix specimen featured in Butte Special Edition
Cuprite – Cuprite crystals have not been reported at Butte but as masses, nodules, felted masses, and mixtures.
Digenite – Although rare, Butte has produced the world's finest crystallized mineral specimens of digenite. Overall, digenite is relatively abundant at Butte, but it is usually intergrown with covellite. Digenite is found as dark blue to black elongated cubes and as parallel groups with rounded pyramidal shapes.
Djurleite – According to the authors, djurleite mineral specimens are seldom recognized. It is identical in appearance to chalcocite and only distinguished with XRD.
Enargite – High quality mineral specimens from Butte are well known in many important mineral collections. Enargite was found in almost every mine. Historically, Enargite is reported to have occurred in crystals from 2.5 to 4cm.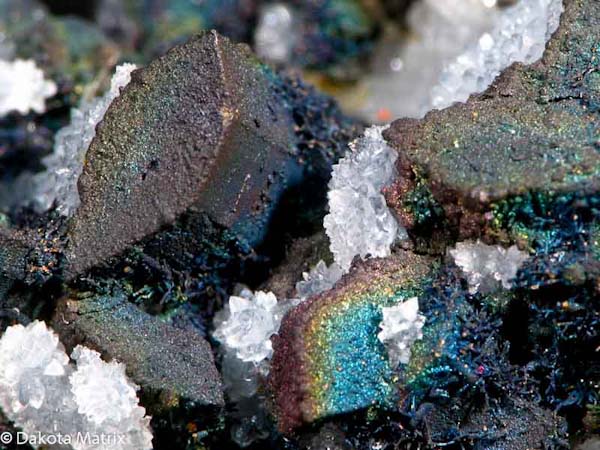 Enargite with Chalcopyrite coating - Butte
Dakota Matrix specimen featured in Butte Special Edition
Fluorite – Fluorite as mineral specimens from Butte are generally not known but, historic reports do mention the occurrences on the Estella claim, Elm Orlu and Badger mines. The Mountain Con produced red octahedral fluorite.
Galena – Galena occurred at only a few localities in abundant proportions at Butte. Significant quantities were mined at the Emma and Orphan Girl mines. Crystals of galena are known from the Syndicate pit, the Little Mina mine, Lexington mine, and Steward mine.
Gold – Historically, gold as mineral specimens are not known. Gold at Butte was mined as placers, and as a byproduct of copper mining.
Luzonite – Luzonite is rare at Butte and only mentioned in historical reports briefly. The MR article was based on two mineral specimens from the Leonard mine. Color is a factor in distinguishing bornite from luzonite mineral specimens. Luzonite occurs as massive fracture fillings associated with covellite-digenite ore. Crystals of digenite are sparse.
Malachite – Malachite is rare at Butte for the same reason as that of azurite – lack of oxidation. All specimens of malachite found are insignificant.
Molybdenite – Molybdenite is a main component of the ore at Butte and is ubiquitous in small proportions. Molybdenite mineral specimens are usually found as small, hexagonal flakes or scales.
Underground miners - Butte
John Taylor Collection
References
Billings, M. P. Structural Geology 3rd ed., (1972) Prentice-Hall, Inc., Englewood Cliffs, NJ
Czehura, S. J. "Butte, A World Class Ore Deposit" Montana Resources, Butte, MT, 2006 SME Annual Meeting and Exhibit.
Evans, A. M. An Introduction to Ore Geology, Elsevier, NY (1980) p. 148-150.
Jenkins, R. E. & Lorengo, J. A. "Butte, Montana Minerals, Mines and History" The Mineralogical Record 33 no. 1 (2002): 5-69.
Jenkins. R. E. & Knudsen, P. H. "Butte, Silver Bow County, Montana" in American Mineral Treasures, Lithographie, LLC, East Hampton, CT (2008): 173-177.
Meyer, C., Shea, E. P., Goddard Jr., C. C. and staff, "Ore Deposits of Butte, Montana" in Ore Deposits of the United States, 1933-1967 (1968), Graton-Sales Vol. 1, New York, AIME, v. 2, p. 1363-1416.
Rickard, T. A. A History of American Mining – The Gold, Silver, and Copper of Butte, AIME Series, McGraw-Hill Book Company, Inc. (1932) p. 341-364.
Rusk, B. G., Reed, M. H., and Dilles, J. H. "Fluid Inclusion Evidence for Magmatic-Hydrothermal Fluid Evolution in the Porphyry Copper-Molybdenum Deposit at Butte, Montana" Economic Geology, v. 103, n. 2, (2008) p. 307-334.
Miners at Butte Union Day Parade - 1908
John Taylor Collection